A perforated metal panel is a sheet of steel, copper, aluminum, brass, stainless steel, or zinc cut into thinner pieces with punctured holes. They also have shapes that have been cut out in a particular design. Read More…
Perforated Metal Panels
Perforated metal panels are sheets of steel, stainless steel, copper, brass, aluminum or zinc that have been cut into thinner pieces with punctured holes and shapes that have been cut out in a pattern or design.
What Is A Perforated Metal Panel?
The perforated metal panels can be made to any size and are used for decorative or functional architectural applications. They have a load-bearing capacity that is greater and more accurate. The perforated metal panels are used in the architectural, construction, interior decorating, chemical processing, aerospace, and cryogenic sectors. Besides enhancing the appearance of metals, the process of perforating has other useful results, such as noise suppression and protection.
The metals' size, the thickness of the gauge, types of materials, and their application affect the types of metals chosen for the metal perforation process. Round or slotted holes, squares, and hexagons are some of the shapes that can be produced.
How Perforated Metal Panels are Made
Perforated metals are made from large rolls of sheet metal. There are two different ways that the perforation process can be done. These two ways depend on the design and complexity of the punctures.
All-across punching presses produce simple, repetitive patterns extending across the entire sheet of metal. In this production, the sheet metal is placed through the press. In this press, rams in the shape of the design hit down on the metal. A different type of punching press is used to produce unique and complex designs. The outcomes from this process are used for decorative purposes.
Sectional punching presses are usually CNC controlled and transport the sheet of metal. This metal sheet is brought underneath a stationary punching ram to create an intricate pattern. As the first perforation process is finished, secondary processing can be made on the panels. This process is made to enhance temperature and corrosion resistance. A bath of molten zinc is usually used to galvanize the metal panels.
Protective coatings can be applied to provide a shiny finish. Besides this, it also leads to slow rusting and tarnishing of the metal panel. For more detail, panels can also be corrugated. This process bends the perforated metal panels into a uniform and continuous wave-like design.
Types of Perforated Metal Panels
Depending on the type of application, different types of metal can be used for perforation because some metals are more ductile, stronger, or more corrosion-resistant.
Round Hole Perforated Metals
Round hole perforated metals have patterns in two forms: staggered or straight lines. Staggered patterns result from the holes being out of order, whereas straight lines have holes placed perpendicular and parallel.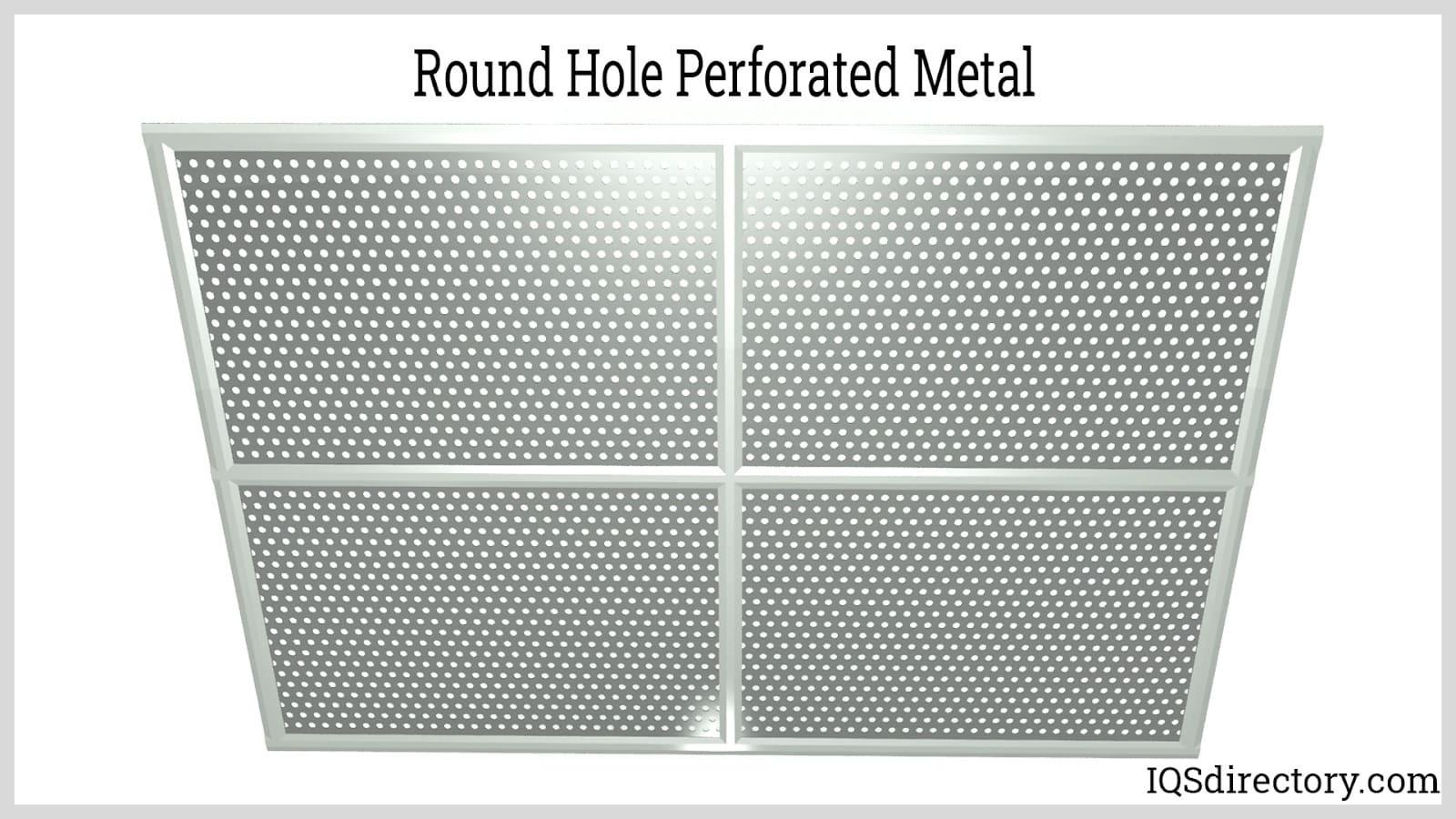 The end margins of the sheet margin come in three options: finished, blank, or unfinished. Finished margins are uniform and complete. Unfinished margins are not solid at the edge of the sheet. Finally, with blank margins, the holes that move towards the edge of the sheet are contained in round perforations.
Square Hole Perforated Metals
Square holes in perforated metals contain a linear pattern that provides a modern appearance and results in a higher degree of open space. Many square hole perforated metals contain different hole designs and sizes.
Square hole perforated metals can also be found in staggered or straight line patterns.
Slotted Perforated Metals
These perforated metals have elongated holes with round or square ends, either staggered or in straight lines. A slotted die is used to punch the holes for the slotted design.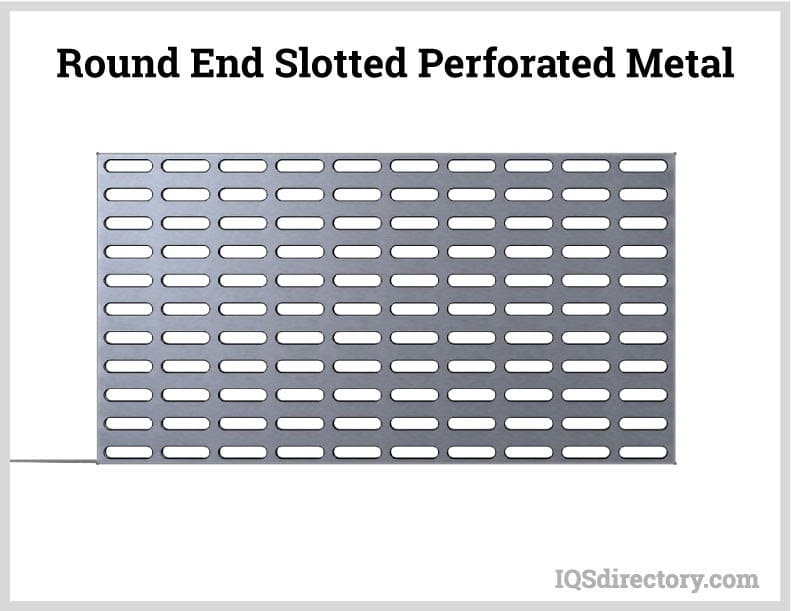 This slotted pattern gives the perforated metals an extraordinary strength-to-weight ratio and allows other elements like light, air, liquid, and sound to pass through. The length and width of the holes can vary.
Applications and Uses of Perforated Metal Panels
Perforated metal panels are used in architecture, construction, interior decorating, chemical processing, aerospace, and cryogenics. The panels help in building insulation by giving structural support in building construction. For example, they act as infill panels underneath stairway handrails. They are added to walls, roofs, and other structural components for decorative purposes.
Choosing the Correct Perforated Metal Panel Supplier
To ensure you have the most productive outcome when purchasing perforated metal panels from a perforated metal panel supplier, it is important to compare several companies using our directory of metal panel suppliers. Each metal panel supplier has a business profile page highlighting their areas of experience and capabilities, along with a contact form to directly communicate with the supplier for more information or request a quote. Review each metal panel business website using our patented website previewer to quickly learn what each company specializes in. Then, use our simple RFQ form to contact multiple perforated metal panel companies with the same form.
Perforated Metal Panels Informational Video