Use our thorough list of perforated metal manufacturers and suppliers in Nova Scotia to examine and sort top perforated metal manufacturers with previews of ads and detailed descriptions of each product. Any perforated metal manufacturers can provide perforated metal products and services to meet your companies specific qualifications. An easy connection to reach perforated metal manufacturers through our fast request for quote form is provided as well. This source is right for you whether it's for perforated plate, gratings, perforated plate or any other perforated metal needs.
Leading Perforated Metal Manufacturers
↓
Scroll
Companies Serving Near Nova Scotia
Farmingdale, NY
|
631-752-1234
We are experienced fine architectural metalwork specialists. Our 47 years of operation includes the custom fabricating of decorative radiator and register grilles, perforated bar gratings, floor gratings and custom plates which are constructed of aluminum, bronze, stainless steel or steel.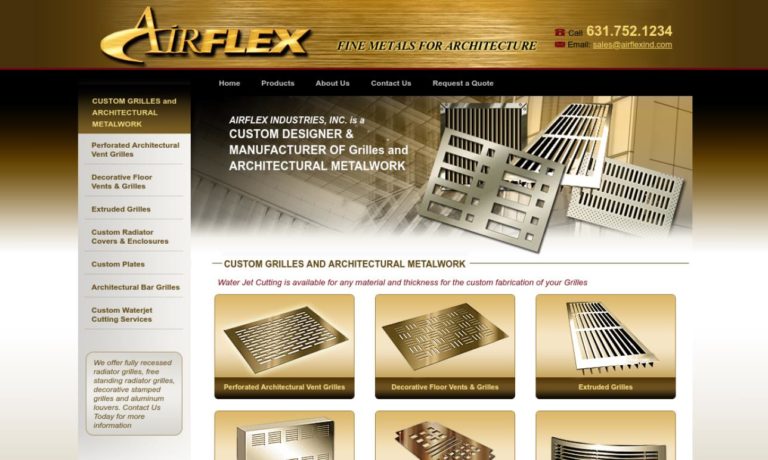 $$$
Carbondale, PA
|
800-225-7373
We are metal perforators with capabilities to produce unlimited patterns from standard to intricate configurations in round, square, oval and rectangular shapes. We perforate a variety of materials delivered in sheets or coils to a variety of industrial, architectural and commercial applications. Our multiple secondary operations, from fabrication to surface finishing, can eliminate labor, time, and provide cost-savings for your completed assembly.
$$$
Tamaqua, PA
|
888-218-2260
Remaly Manufacturing Company, Inc. is a trusted manufacturer of perforated metals and custom metal solutions. Our company has been serving the industry since 1865 and is located in Tamaqua, Pennsylvania. Our accomplished company has an extensive list of capabilities and services and is able to meet the needs of a large customer base. Our goal is to meet or exceed customer's requirements when it comes to quality, price, and delivery. 90% of our orders are filled within seven days which helps us ensure they are offering the best service possible.

Our successful company is known for our metal fabrication services but we also offer custom perforated sheets and panels and other custom fabrication services. We also offer premier plasma and laser cutting as well as metal screens and sheet metal parts. Remaly Manufacturing Company, Inc. serves a variety of industries including mining, food processing, landscaping, transportation, pharmaceutical, and more. We use materials like stainless steel, galvanized steel, copper, brass, bronze, and titanium among many others. Our company can bend, form, shear, saw, machine, punch, and weld our products as well as provide custom solutions for both ferrous and non-ferrous metals.

Remaly Manufacturing Company, Inc. carries an extensive stock of perforated metals which helps us provide rapid turnaround times and high accuracy. Our specialty is in small orders and personal service as well as prototyping. We also work with expanded metals and woven wire for applications like metal grilles and cages. Our highlighted service is metal fabrication of products like custom tanks, countertops, assemblies, and stainless steel sinks. With so many service options and custom products, our company has established ourselves as a trusted manufacturer. Call Remaly Manufacturing Company, Inc. today!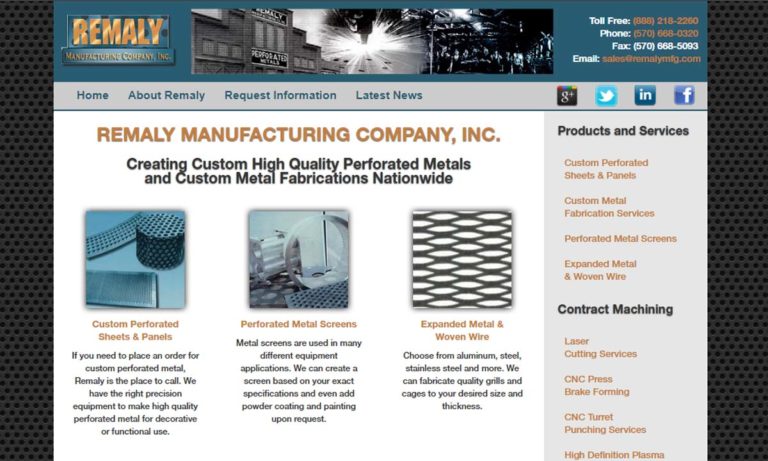 $$$